Surgical foot correction is a last resort for people who suffer from a combination of flatfoot and fallen arches. The ankle of people, who suffer from this wide-spread deformity, buckles inwards while running.
In addition to that the sole of the foot doesn't bulge upwards, but lies flat on the ground. This deformity comes along with a variety of functional problems that cause discomfort for the patient. The buckling motion of the ankle also influences the overall aesthetic of the foot and might generate psychological problems.
Flat Foot Correction: Why Surgery Without Physical Indication?
Many women who actually have straight legs, feel so disturbed by their flat foot or very law arches, that they decide to undergo corrective surgery. A lack of satisfaction with the own body can result in severe depression and even social isolation.
Surgical Foot Correction and Leg Alignment: The Minimal Invasive 2 in 1 Surgery
In an early stage of flat foot and fallen arches, a minimal invasive approach can provide both leg alignment and flat foot correction in only one session. This can be only done under the condition that no advanced stage has been reached, in which both ligament and joint capsules are significantly shortened.
Treatment after Surgical Foot Correction
After the surgery, the foot is fully functional, in some cases crutches may be used for a couple of days.
Removal of stitches after about 14 days.
Bed rest for the day of surgery.
Back to work within two weeks.
Foot Correction in Germany: Treatment with Specialist Adem Erdogan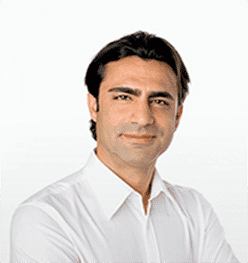 Adem Erdogan is among the leading foot surgeons in Germany. Long-standing experience, optimizing surgical procedures as well as detailed diagnostics contribute to an ever-increasing inflow of patients.
Do you have questions concerning the treatment, possible risks and the costs?
After a consultation and detailed investigation Adem Erdogan creates a treatment plan tailored to your personal needs. He will be happy to answer all your questions.
Make an appointment now in our foot practice in Dusseldorf!
You want to know, how other patients rated Adem Erdogan? Check his profile. (German)